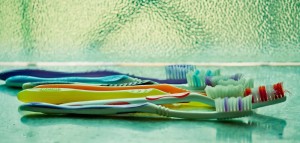 Most people brush their teeth twice a day. We don't necessarily know why it's so important to do it – but we do it anyways.
Nobody likes going to bed with stuff on their teeth. Today, I'm going to explain why brushing your teeth before bed is so important:
Run your tongue across your teeth right now
If you're reading this, you're probably passing some time at work or school. So let's say it's the middle of the day. Run your tongue across the front of your teeth. Do you feel a little fuzziness or stickiness on your teeth? How about when you move your tongue up close to the gum line? There it is.
This is called "plaque" and you've probably already heard of it. Plaque buildup leads to cavities, gum disease, and the growth of bacteria buildup.
The longer that plaque sits in your teeth undisturbed, the longer it has to build up and become "tartar". Tartar is the hard, yellow, rough material that's often found between your teeth.
Tartar is more dangerous than plaque. It leads to a higher risk of gum disease and can cause inflammation and bleeding in the gums. If you let tartar sit in your mouth too long, you could even lose teeth.