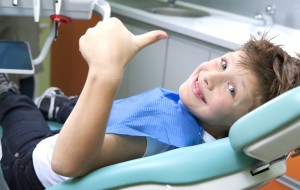 Modern technology has given us so much. And now, thanks to modern technology, kids can grow up with healthy teeth.
At least, that's the idea behind Virtual Dental Home (VDH). VDH is a California-based program which works like a mobile dental office: a specially-trained hygienist packages a chair and dental equipment into a car and travels to underprivileged schools and neighborhoods.
Thanks to VDH, kids are able to quickly, easily, and affordably access high-quality dental care. It's like having a dental clinic come to you.
Many people are unaware that the number one chronic disease among children is tooth decay. If you've ever had a serious toothache or suffered from tooth decay, then you know how painful it can be.
Kids often struggle silently with tooth decay. They may be embarrassed that their teeth hurt or unwilling to tell their parents. Of course, this just makes the problem worse.
In other cases, parents may simply be unable to afford dental care or lack dental insurance.
But here's the good news: dental disease is almost always preventable. When children get routine dental care, they significantly reduce their risk of developing any type of dental disease or dental problems.