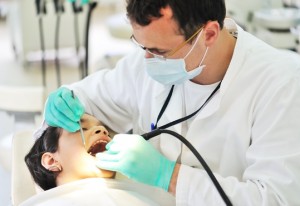 Dental clinics aren't known for being cheap.
But one dental clinic in Longmont, Colorado is trying to change that perception: Longmont's Dental Aid clinic is currently offering dental services for free.
Dental Aid partnered with an American Dental Association program called Give Kids a Smile, which aims to provide dental care to underprivileged children across America.
A recent Denver Post article followed the story of local eight-year old Jessica, who started third grade this past September. Jessica's mother began searching for affordably-priced dental care in her local area when she read about the Give Kids a Smile program. Jessica's mother was pleased to learn the nearest affiliated clinic was just a five minute drive away.
The first visit to Dental Aid revealed "quite a few cavities" according to clinic dentist Wayne Franz.
Cavities are a problem at any age, but they're especially problematic for young children. Early childhood cavities are known as caries, and they can lead to severe dental problems as the child ages:
"One-third of all 3-year-olds, from all socioeconomic levels, have cavities, but the patients we see at Dental Aid don't have the access to dental care that privately insured patients have," says Darby Barfield, a pediatric dentist who works at a Dental Aid clinic in Louisville.